Carolina Electrical Contractors is a full service electrical contracting company serving residential,commercial and industrial customers in the greater City area.

We provide complete wiring services for new commercial and industrial facilities. This includes office buildings, fabrication, machine shops and plants. We also provide complete wiring for renovation projects for existing facilities of all types.

Our services extend to wiring for new and existing parking lots and site lighting. This includes the trenching and laying of conduit and wiring, setting of poles and final connections. Also includes any installation and repairs of any site using overhead wiring.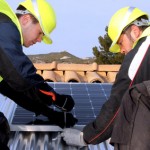 Services are also provided to new and existing subdivisions, including the trenching and laying of conduit and wiring. All pole risers, transformer installation, seeing of street light poles and all final connections for both the primary and secondary. We also provide services for underground wiring installation, this includes all plant work and field work.
From design to finish, our experienced estimators, project managers and technicians provide the expertise to ensure your electrical project is completed on time, on budget and up to code. We understand that service interruptions are an inconvenience and cost you productivity so we focus on providing expedient services to get you back online as soon as possible without risking the safety of your valuable electrical equipment. We are also absolutely committed to safety and provide ongoing education to our personnel to ensure complete compliance with best practices and standards.

If there's anything else we can do to make your experience any better, just ask. We appreciate your interest and look forward to earning your business.


Services We Offer:

Commercial, Residential and Industrial electrical services:

- New Construction & Remodeling

Home Rewiring

Appliance Outlets
Phone Jacks & Cable Outlets
Doorbell Installation & Repair
Home Theater & Media Room Wiring
Low Voltage Wiring for Telephone &Television
Installation & Maintenance of Intercom Systems
Installation of Indoor Outlets & Dimmer Switches
Indoor Lighting (Ceiling Fans, Chandeliers, Recessed Cans, etc.)

Fire Alarm Systems

Home & Portable Generators
Smoke & Carbon Monoxide Detector Installation & Maintenance

Hot Tub & Pool Wiring

Landscape Lighting & Design
Pond Lighting & Fountain Wiring
Outdoor Outlets & Fixture Installation
Installation of Electrical Power to Garage
Installation of Electrical Power to Ball Fields

Thermal Imaging Camera
Electrical Troubleshooting
Lightning Warning Systems
Electrical Safety Inspections
Underground Cable-Fault Locator
Electrical Code Violation Corrections
Corrective Wiring for Poorly Installed Systems & Circuits
Installation & Maintenance of Circut Break (Fuse) Boxes & Electrical Panels